Pollution Prevention
Our planet can only do so much to fight pollution. Everyone needs to do their part in cutting down the amount of pollution produced with an ever-growing population.
Water Pollution
Northglenn's water supply is stored in Standley Lake until it is treated for your use. The quality of the water that enters Standley Lake affects the final product.
The city is actively involved in making certain that any upstream natural or human impacts that affect water quality do not jeopardize your water supply.
The source of the surface water that fills Standley Lake originates as rain or snow at the Continental Divide in the Upper Clear Creek Watershed. The water flows down Clear Creek and is transferred to Standley Lake by way of three diversion canals.
Water Quality Laboratory scientists routinely sample Standley Lake, Clear Creek, the diversion canals and the distributions system to check for bacteria and other possible contaminants that could affect either human health or the drinking water treatment process.
In addition to protecting your drinking water supply, the city also complies with stormwater regulatory water quality requirements. Every gutter in your neighborhood drains through an inlet into the stormsewer system that leads to streams, ditches, lakes and ponds in your neighborhood. These water bodies are drinking water supplies for downstream communities, recreational areas and wildlife habitat. Anything on the sidewalks and streets, such as grass clippings, leaves, pet waste, trash or excess fertilizer, is carried away by stormwater runoff and ends up in storm drains where it flows into our rivers, lakes and streams.
Air Pollution
Air pollution comes from numerous sources, including industrial by-products, exhaust from automobiles, airplanes, and other forms of transportation. Some sources you might not think of include leaking refrigerants from air conditioners in cars and houses.
Polluted air can have an unpleasant smell such as sulfur or other chemicals, and it may also look discolored and appear as a "brown cloud." While these seem only aesthetic attributes of air, research has shown that polluted air can also have negative effects on the environment and our health.
Another hazardous pollutant in the air is ozone. While stratospheric ozone filters out harmful radiation from the sun, ground level ozone forms in warm weather, is detrimental to health and is considered pollution. The geographical features around the Denver Metro area make us especially susceptible to high ozone levels in warm weather.
Current Air Quality Index readings: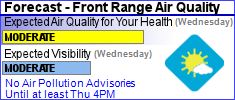 Green Cars
The exhaust produced by motor vehicles is a major cause of air pollution. With Colorado's growing population comes a growing number of cars on the roads.
In an effort to curb the effects of pollution from motor vehicles, many manufacturers now make hybrid vehicles and vehicles that run on alternative and renewable fuels such as electricity and biodiesel.
Transportation Alternatives
To cut down on pollution and street congestion, the Denver Metro area offers public transportation through RTD.
Another transportation alternative is the Denver Regional Council of Governments (DRCOG) Ride Arrangers program.